Vivek Mishra is a type 2 diabetic. His diabetes journey started from 2007, when he was diagnosed with FBS of 260 mg/dL and PPBS of 420 mg/dL. These are scary numbers indeed. But, he was on the usual metformin + glimepiride and all along his numbers have never been normal, according to what we specify as normal. In fact, it ranged between 8.0 and 9.3
On 6th December 2020 his FBS was 226 mg/dL and PPBS was 392 mg/dL. HB1Ac checked on 9th January 2021 was 7.9. This was despite walking almost 10km per day. In his own words, it was a desperate situation. Poonch me aag lag chuki thhee (tail was on fire) as he says.
He joined dLife.in on 20th January 2021 and his switchover to LCHF started from January 24th 2021, and here's his thread on the forum:
https://www.dlife.in/forums/threads/diabetics-since-2007-and-need-effective-management-strategy.26302/
Here's his progress in his own words:
HB1Ac dropped to 6.3 after one month and by next month it came down to 5.6
Serum creatinine dropped from 1 unit to 0.74 unit in one month and 0.69 by next month
Liver function improved ( SGOT and SGPT) improved significantly
Cardiac function improved
I left taking Glimepiride from 5th day of joining forum.
Lost 9.7 kg wt in two months
Many other benefits
Recurring, headache on the right side ( may be migraine) reduced by 90%

I came to know that the "millets are helpful in diabetics" is a myth.
On LFT improvement, here's the comparison: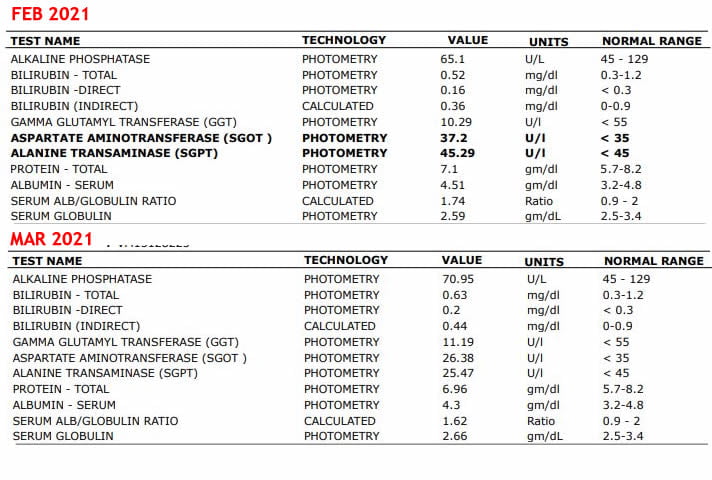 Congratulations Vivek. Yours is the fastest recovery, despite 14 yrs of diabetes history.
Update May 24th, 2021
A1C drops to 5.3
Update of Jun 6, 2021
Migraine headaches: NILL
Image Credit: Provided by Vivek Mishra with permission to use on our network of sites.


And here's his podcast